Starters for Ten 2019 – #147: Top Ten Boogie tracks: 190528
Booker T & the MGs – Green Onions (1962)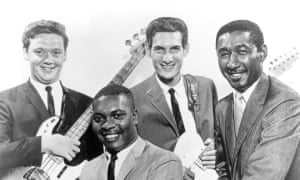 Throughout 2019 Jem of Jemtunes is taking you through 36 top tens and one top five. Tunes for a whole gamut of reasons including genre, mood, time of year or simply time itself. Sometimes there's be words but mostly it'll simply be the music. Because music always speaks for itself.
Continuing the 15th – featuring my top ten boogie tracks, and running between 21 and 30 May – here's Green Onions, an instrumental composition recorded in 1962 by Booker T. & the M.G.'s. Described as "one of the most popular instrumental rock and soul songs ever", the tune is a twelve-bar blues with a rippling Hammond M3 organ line by Booker T. Jones that he wrote when he was 17, although the actual recording was largely improvised in the studio.
The track was originally issued in May 1962 on the Volt label (a subsidiary of Stax Records) as the B-side of "Behave Yourself" on Volt 102; it was quickly reissued as the A-side of Stax 127, and it also appeared on the album Green Onions that same year. The organ sound of the song became a feature of the "Memphis soul sound".