The '59 2018 #064: 180305
Big Brother & The Holding Company – Cheap Thrills (1968)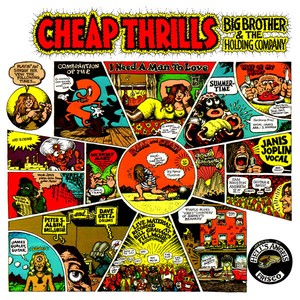 This year, Jem of Jemtunes, born in 1959, turns 59. So 'The '59' celebrates 59 years of cracking tunes with a few albums from each year – 1959 through 2018. We're currently at year 10 – 1968.
Big Brother obtained a considerable amount of attention after their 1967 performance at the Monterey Pop Festival, and had released their debut album soon after. The followup, Cheap Thrills, was a great success, reaching number one on the charts for eight nonconsecutive weeks in 1968. Columbia Records offered the band a new recording contract, but it took months to get through since they were still signed to Mainstream Records. The album features three cover songs ("Summertime", "Piece of My Heart" and "Ball and Chain"). It was the last Big Brother album to feature Janis Joplin as its lead singer.
The cover was drawn by underground cartoonist Robert Crumb after the band's original cover idea, a photo of the group naked in bed together, was vetoed by Columbia Records. Crumb had originally intended his art for the LP back cover, with a portrait of Janis Joplin to grace the front. But Joplin — an avid fan of underground comics, especially the work of Crumb — so loved the Cheap Thrills illustration that she demanded Columbia place it on the front cover. It is number nine on Rolling Stone's list of one hundred greatest album covers. Crumb later authorized the sale of prints of the cover, some of which he signed before sale.